Well, the stock market is crashing – and if I'm being completely honest, stocks could keep falling.
The reality is that the entire global financial market is built on the back of super low interest rates. Those rates are now soaring, and unsurprisingly, the markets are starting to break.
But if you think that's a reason to sell everything, let me ask you this. Did you know that a certain group of stocks has a proven history of soaring during market crashes?
It's true. And we uncovered those stocks, thanks to a rare market phenomenon we just discovered this year called a "divergence." This phenomenon repeatedly appears during bear markets and scores savvy investors huge returns (even if the broader markets keep crashing).
For the first time since 2008, this phenomenon has reappeared in the stock market. And the window to capitalize on this huge opportunity is rapidly closing.
If you really want to crush this bear market and turn it into the best thing that's ever happened to you financially, you need to act now.
Here's why.
Divergence Stocks Soar in Bear Markets
As many of you know, we've been studying this divergence phenomenon for months now.
To recap, divergence is something you likely haven't heard of elsewhere. This is because it's something my team and I have only recently discovered.
It is this ultra-rare phenomenon that occurs only about once a decade, where certain individual stocks diverge significantly from their "true" prices, as determined by the company's fundamentals.
The divergences always end with those individual stocks snapping back to their "true" prices. And that results in enormous returns for investors who bought during the divergence window.
We've made a lot of interesting discoveries about these divergences. They usually revolve around growth stocks. They usually last a few months. And they usually result in 100%-plus gains in less than a year.
But one of the most interesting and relevant discoveries we've made is that these stocks tend to soar even if the broader markets crash.
Take, for example, the Great Divergence of 2001. At the time, internet stocks were undergoing an enormous divergence. Their stock prices were collapsing, yet many still had rapidly growing revenues and earnings.
A few stocks that experienced this divergence in 2001 were Amazon (AMZN), F5 Networks (FFIV), and eBay (EBAY).
Look what happened to those stocks throughout 2001 and 2002. While the broader market kept reeling during that period – the Dow Jones dropped 16%, the S&P 500 dropped 24%, and the Nasdaq collapsed 27% – these divergence stocks soared by an average of more than 90%.
In other words, while folks invested in the market lost more than 20% of their wealth during this period, divergence stock investors basically doubled their money!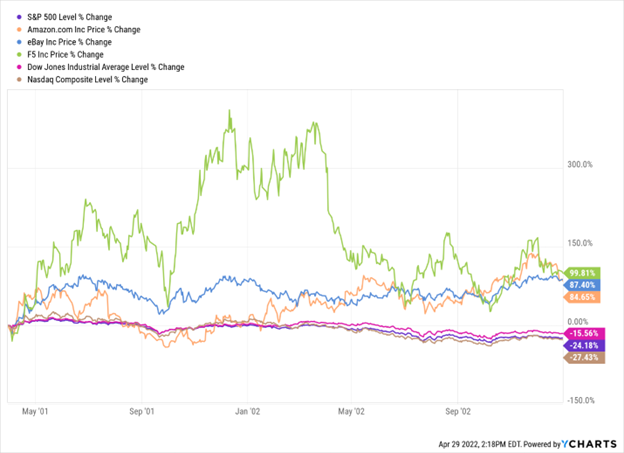 A Repeating Pattern
And this isn't an isolated example.
It is a repeating pattern illustrating the bear market protection that divergence stocks provide.
Let's fast-forward to the Great Divergence of 2008. At the time, all stocks were crashing due to fallout from the great financial crisis. But certain stocks were crashing at the same time their companies were rapidly growing their revenues and earnings. Some examples include Amazon, Netflix (NFLX), and Booking (BKNG).
From November 2008 to March 2009, those divergence stocks soared between 56% and 94%. Over that same stretch, the Dow Jones dropped 11%.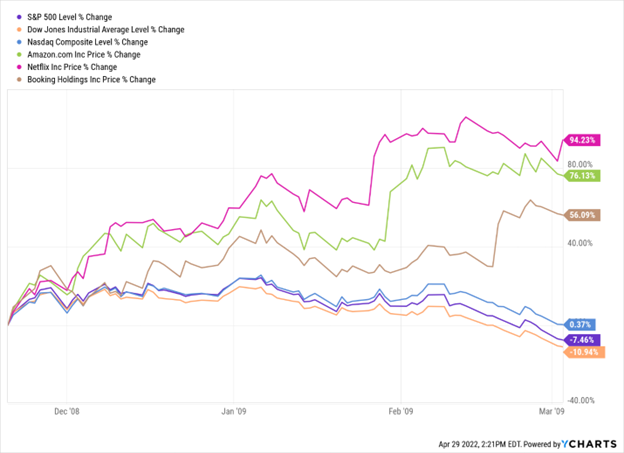 Yet again we see that stock market investors lost money while divergence stock investors scored huge returns.
This is the power of the divergence. It is such a mighty market phenomenon that it could send a small group of stocks significantly higher in a short amount of time, even if the market crashes.
From an investment perspective, there's no better value proposition than that.
But divergence stocks aren't just about scoring huge near-term returns. These stocks have a track record of scoring investors 1,200%-plus returns in the long run, too.
The Best Buying Opportunity in History?
I'd argue that this market phenomenon offers investors the best buying opportunities in stock market history.
And I'd make that argument because the data would back me up.
Per our analysis, there have been three Great Divergences over the past 40 years: 1988, 2001, and 2008. Each time, they offered investors the chance to buy world-changing companies at blockbuster discounts.
We're not talking about buying GameStop (GME) or AMC (AMC) and taking on huge risk. We're talking about buying Microsoft (MSFT) at 40 cents in 1988 or buying Amazon at $5 in 2001. We're talking about buying Salesforce (CRM) at $6 in 2008.
Obviously, those are fantastic long-term investments. But to hammer the point, let's go over the numbers.
Based on data from over 20 stocks through three different divergences stretched over 40 years, we've found that the average forward 12-month return in these divergence stocks was about 135%. Forward five-year returns were almost 1,000%. Forward 10-year returns exceeded 3,000%. And forward lifetime returns were more than 20,000%!
So, we're not just talking about stocks to buy today and sell tomorrow or even stocks to buy today and sell in a year.
Yes, divergence stocks tend to double in 12 months. But they also tend to rise 10X in five years and more than 30X in 10 years.
We're talking about stocks to buy today and hold forever – stocks with the chance to turn meager $10,000 investments into multi-million-dollar paydays.
But that chance only comes around about once a decade when this divergence phenomenon emerges.
Well, folks, today the Fourth Great Divergence is here. The window to buy is rapidly closing. And we're ready to capitalize on it for huge returns.
The Final Word on Divergence Stocks
We are in the midst of a truly unprecedented money-making opportunity.
A rare stock market phenomenon has emerged for the first time in 14 years.  Historically speaking, investors who have capitalized on this phenomenon had the chance to double their money in 12 months, 10X their money in 5 years, and 30X their money in 10 years… even if the broader markets crashed!
These are opportunities that could simultaneously soar and offer you protection from a stock market crash.
Can you see why I'm so excited right now? It doesn't get any better than this!
Throughout my stock-picking career – where I jam-packed more than 2010X stock picks into just a few years – I've never been more bullish than I am right now.
And I really don't want you to miss out on this opportunity.
So, this Thursday afternoon, at 4 p.m. Eastern, I will be releasing an emergency broadcast on the 2022 Divergence Phenomenon.
In that broadcast, I will give away my top divergence stock to buy right now for FREE, reveal a brand-new portfolio of high-upside divergence stocks, and make one of the boldest predictions in financial market history.
This is a broadcast you can't afford to miss.
Don't forget to reserve your seat now!
On the date of publication, Luke Lango did not have (either directly or indirectly) any positions in the securities mentioned in this article.